PCD Pharma Franchise Company in Jharkhand– Novalab Healthcare is offering medicine franchise in Ranchi, Jamshedpur, Dhanbad, Bokaro Steel City, Hazaribagh, Giridih, Deoghar, Ramgarh, Phusro, and Chirkunda. etc. We provide a vast range of pharma products with complete quality assurance at genuine prices. The company comes up with a profitable PCD Pharma Franchise opportunity in order to meet the huge demand for quality medicines. We are known as the top PCD Pharma Franchise Company in Jharkhand as we bring an innovative range of anti-diabetic, cardiology medicines, ophthalmic, dermatology, and nutraceutical medicines.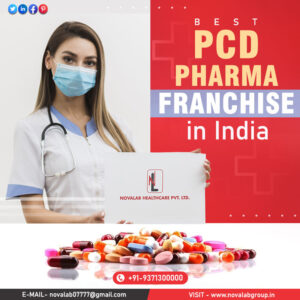 Novalab Healthcare is an ISO 9001:2015 certified pharma company that has a sound of experience in the pharmaceutical industry and offers PCD Franchises in the different locations of Jharkhand on monopoly basis. The company has its own state of art manufacturing units and is well equipped with the best quality control team, research and development team, lab scientist, and logistic department. We are the top PCD Pharma Franchise Company in Jharkhand as we follow the strict guidelines of GMP and WHO certifications.
This is a great chance for pharma individuals who want to start their own business in the Pharmaceutical sector with affordable investment. Novalab Healthcare is the best option for you, for more information regarding the PCD Pharma Franchise business you can call or email at 9371300000, novalab07777@gmail.com. 
Novalab Healthcare – Leading PCD Franchise Company in Jharkhand
Novalab Healthcare is popular in the Pharmaceutical industry and offers the multi-therapeutic product segment like anti-bacterial, anti-inflammatory, anti-diabetic, neuropsychiatric, gynecology, nutraceutical, and much more. Our company comes up with the PCD Franchise business in Jharkhand that conducts advanced research and production of high-quality pharma medicines. The state of art manufacturing units always inspects by dedicated quality control experts like QA/QC that help us to provide safe and effective medicines to the customers. The production plants are installed with the latest technology and computerized machinery. The best and most amazing part of the company is its research and Development team, who devotes its 100% effort to introducing unique and innovative medicine ranges at affordable prices.  Some of the amazing highlights of the company are written below:
Production plants working in accordance with GMP and WHO certifications
The company is ISO certified and meets the international quality standards
With the great research and development experts you will get updated pharma products.
We promise to provide on-time delivery of the ordered products.
High Quality Range of Pharma Products 
Novalab Healthcare comes up with a wide range of pharma products that are scientifically proven and quality-tested formulations. The company has a strong hold on its state of art production faculties and works under the guidelines of GMP and WHO certifications. The company has a great team of quality control who inspect every single drug and ensure the customer will get the best quality pharma medicine. We are the leading Pharma Products PCD Franchise Company in Jharkhand and offer the following medicines:
Amlodipine & Atenolol Tablets
Atorvastatin & Clopidogrel Tablets
Clopidogrel & Aspirin Tablets
Aloe vera & Vitamin E Soap
Clindamycin Phosphate & Niacinamide Gel
Ivermectin Tablets
Bromfenac Ophthalmic Solution
Dorzolamide Hydrochloride Eye Drops
Instant Energy Drink With Vitamin C
Potassium Nitrate With Fluoride Medicated Tooth Gel
Moxifloxacin Injection
Mannitol & Glycerin IV Infusion
Get the Monopoly-Based PCD Franchise Business in Jharkhand
NOvalab Healthcare provides the best possible help to its franchise associates so they can easily grow their businesses in their desired locations. For this, the company offers the Monopoly Based Franchise Business in Jharkhand that helps the franchise partners to do their business within their territory without facing market competition. You can also get these benefits after joining the PCD Franchise Business in the following locations in Jharkhand:
| | | | |
| --- | --- | --- | --- |
| Bokaro | Khunti | Garhwa | Ramgarh |
| Chatra | Koderma | Giridih | Ranchi |
| Deoghar | Latehar | Godda | Sahibganj |
| Dhanbad | Lohardaga | Gumla | |
| Dumka | Pakur | Hazaribagh | Simdega |
| East Singhbhum | Palamu | Jamtara | West Singhbhum |
Join Hands with Novalab Healthcare to get the Amazing Benefits
For Pharma professionals who are looking for a pharma company that will provide franchise services and supports to build their career in the Pharmaceutical industry, Novalab is the best option for them. The company offers amazing benefits and support to its franchise associates and helps them to run their businesses smoothly. Here is the list of the benefits you will get after joining hands with Novalab Healthcare in Jharkhand.
You will get monopoly rights
Free-of-cost promotional tools are available
The investment plans are genuine
No sales target and freedom to work independently
Higher profit margins
For More Information
Name: Novalab Healthcare
Phone: 9371300000.
Email: novalab07777@gmail.com.