PCD Pharma Franchise Company in Meghalaya–  Novalab Healthcare is offering medicine franchise in Shillong, Tura, Jowai, Nongstoin, Williamnagar, Mawlai, Nongthymmai, Baghmara, Resubelpara, and Mairang. etc. We provide the best-quality medicines at affordable prices. We are the ISO-certified PCD Pharma Franchise Company in Meghalaya and deliver anti-diabetic, anti-inflammatory, anti-allergic, cardiology, nutraceutical, gynecology, neuropsychiatric, etc.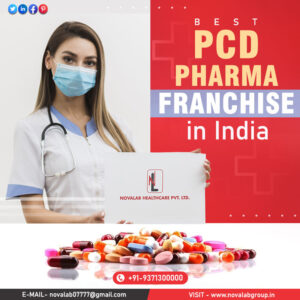 Novalab Healthcare has its own manufacturing units. At the production facility, we follow the GMP-WHO-certified guidelines to ensure that pharma products match international quality standards. Novalab Healthcare is the Top PCD Pharma Franchise Company in Meghalaya as it offers multiple services to its associates like monopoly rights, promotional tools, 24/7 customer support, and on-time delivery of the products.
To associate with Novalab Healthcare through the PCD Pharma Franchise Business in Meghalaya call us at 9371300000 and write us an email at novalab07777@gmail.com to get more details.
Join Monopoly-PCD Franchise Business in Meghalaya
Meghalaya has around 3.8 million people, but unfortunately, many of them don't have access to healthcare and struggle to get the medicines they need. Because of this, we see an opportunity for PCD Pharma Franchise Companies to step in and help. If you're a pharmaceutical professional, you can join us with a small investment, and this can lead to success and entrepreneurship in your life. We are specifically targeting certain locations in Meghalaya for our PCD Pharma Franchise.
| | |
| --- | --- |
| East Garo Hills | South Garo Hills |
| East Jaintia Hills | South West Garo Hills |
| East Khasi Hills | South West Khasi Hills |
| North Garo Hills | West Garo Hills |
| Ri-Bhoi | West Jaintia Hills |
| West Khasi Hills | |
Novalab Healthcare- Best PCD Franchise Company in Meghalaya
Novalab Healthcare is known for providing top-quality products and services. Our pharma products are not only of high quality but also available at affordable prices. We strictly adhere to manufacturing standards and regulations to ensure the safety and well-being of our customers. We source our raw materials from trustworthy suppliers who have a good reputation in the market. Our products are manufactured under the supervision of a highly qualified team. Because of our company's good reputation, we are offering the opportunity for a PCD Pharma Franchise in Meghalaya.
Novalab Healthcare is a well-established and renowned company in the field of pharmaceutical products and the PCD Pharma Franchise. Our team consists of highly qualified professionals who work diligently to benefit our customers and the company. Here are some key points about Novalab Healthcare:
All the pharma products are certified by DCGI and available at affordable prices.
The company follows GMP-WHO Guidelines in its state of art manufacturing facilities.
Warehouses are spacious, hygienic, and contamination free.
The company assured its customers by providing on-time delivery of the order.
Manufacturing facilities are fully equipped with the latest machinery and advanced devices
High-Quality Pharma Medicines 
Novalab Healthcare offers a variety of pharmaceutical products that have been scientifically tested and proven to be effective. Our company has modern production facilities and follows the guidelines of GMP and WHO certifications to ensure the highest quality standards. We have a dedicated team of quality control experts who carefully inspect each drug to guarantee that customers receive the best quality medicine. As the leading Pharma Products PCD Franchise Company in Jharkhand, we provide the following medicines:
Amlodipine & Atenolol Tablets
Atorvastatin & Clopidogrel Tablets
Clopidogrel & Aspirin Tablets
Aloe vera & Vitamin E Soap
Clindamycin Phosphate & Niacinamide Gel
Ivermectin Tablets
Bromfenac Ophthalmic Solution
Dorzolamide Hydrochloride Eye Drops
Instant Energy Drink With Vitamin C
Potassium Nitrate With Fluoride Medicated Tooth Gel
Moxifloxacin Injection
Mannitol & Glycerin IV Infusion
Why Choose Novalab Healthcare for PCD Franchise Business in Meghalaya
Novalab Healthcare offers great business opportunities in the pharmaceutical industry, making us the top choice for every business. We guarantee a wide range of high-quality products that offer excellent profit margins. With our strong customer base and positive brand reputation, partnering with us for the PCD Pharma Franchise in Meghalaya can help you grow your business. Here are some advantages of choosing us:
Affordable pricing for all our products to meet everyone's needs.
Exclusive sales rights are given to you.
Strong profit margins for your business.
We provide high-quality medicines to support the healthy growth of our members.
Our company offers free advertising tools to promote your business.
For More Information
Name: Novalab Healthcare
Address: Plot No-208, Industrial Area Phase 1, Panchkula, Punjab 134113.
Phone: 9371300000.
Email: novalab07777@gmail.com.