Pediatric Drops Manufacturer and Supplier in India – Pediatric medicines have a 100% success rate when it comes to treating health diseases among infants, children, and adults. That is the reason this product range holds special importance and demand in the market. Novalab Healthcare is the Best Third Party Pediatric Drops Manufacturer and Supplier in India that manufacture and deliver more than 500+ high-quality pharma products including Pediatric range for outsourcing. The company holds rich expertise in pharma manufacturing that helped us to established strong clientele across the nation. We at Novalab Healthcare aims to hand over quality assured products to our clients so that they can launch their brand and companies.
Novalab Healthcare is an ISO 9001:2015 certified Indian pharmaceutical company that offers top-of-the-line Pediatric solutions. Our high-tech product range is produced under GMP-WHO authorized manufacturing plants using fully inspected raw material. Our constant endeavor to bring out premium quality Pediatric solutions and provide the best services make us the Top Pediatric Drops Manufacturer and Supplier in India. Our team of doctors, in-house pharma specialists, manufacturing experts, quality inspectors, etc. allow us to fabricate products in the form of Drops, Tablets, Capsules, Injections, and much more. So, if you want to experience on-time product delivery, affordable prices, and consistent quality, then work with Novalab Healthcare.
Launch your own business or make an addition to your current product range with the Pediatric range delivered by Novalab Healthcare. Dial 9371300000 or write us an email at novalab07777@gmail.com to know more about deals!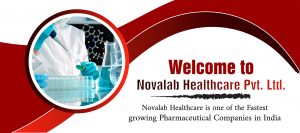 Novalab Healthcare – Best Pediatric Drops Manufacturer and Supplier in India
Novalab Healthcare is one of the leading third party manufacturing organizations working in the Indian market. Established in the year 2014, the company has substantially abridged its product range with over 500+ high-quality medicines. We provide a broad array of highly innovative and effective pharma solutions that cover the segments like Pediatric range, dermatology range, ENT range, Infusion range, Cardiac Diabetic range, General range, Injectable range, Protein powders, Syrups, Suspensions, and much more.
The company has experienced accelerated growth & development through its state-of-the-art infrastructural facilities, in-house product development, effective marketing strategies, and strategic in-licensing. We lay emphasis on maximum quality assurance and providing affordable medicines to our clients. Such traits helped us to get recognized as the Top Third Party Pediatric Drops Manufacturer and Supplier in India.
Reasons behind Novalab Healthcare Success:
We have a team of experienced and skilled professionals.
The company delivers an enticing product range that meets International Quality & Safety marks.
Our premises is completely furnished with the best technology and modular imported machinery that makes work easy and allows us to deliver an only best quality product in the market.
All the products that we offer are quality inspected and best in terms of safety levels.
We are well known to deliver excellent investment deals that are affordable and mutually beneficial.
Quality Pediatric Drops Range Offered for Third Party Manufacturing
Using years of expertise, Novalab Healthcare has come up with quality assured Pediatric range. The company is devoted to delivering safe and result-oriented medicines to clients and customers. Delivering quality and secured products is the fundamental element of the Best Third Party Pediatric Drops Manufacturer and Supplier in India, Novalab Healthcare. We manufacture products by using 100% clinically tested raw material with compliance to the IMA guidelines and Industrial quality and safety regulations.
We rigorously follow a standardized manufacturing process and fabricate the medicines after complete research, analysis, and testing. All our products have been quality-checked and packed under multiple layered packaging with proper labeling. We use imported equipment and devices to manufacture our products. Such actions add value to the range delivered by the Top Pediatric Drops Manufacturer and Supplier in India, Novalab Healthcare.
List of the Pediatric medicines owned by us:
| | |
| --- | --- |
| Brand Name | Composition |
| CEFITOSS-DROP | Cefixime 25mg drop |
| DOMRAP DROP | DOMPERIDONE 5MG DROP |
| JIONATE DROP | Zinc Gluconate Drop |
| JONYSPAS | Antispasmodic drop |
| CYPTOSS | Cyproheptadine 2mg+Trichloline Citrate 275 mg + Sorbitol Base drop |
| HEPATOSS | Silymarin 35 mg+ L-Ornithine L-Aspartate125 mg with B-Complex Drops |
| JONYAID | Simethicone 40 mg + Dill Oil + Fennel Oil |
| NAZOJOY | Paracetamol, phenylephrine hydrochloride, Chlorpheniramine maleate suspension |
| KOOCAL D3 (Nano Shot) | Vitamin D3 Oral Solution 60000 IU/5 ml |
| NEEPOD | Cefpodoxime 25mg drop |
| KOOCAL-D3 DROP | Vitamin D3 (Cholecalciferol) |
| NXCLAV DROP | Amoxicillin 60mg+clav 28.50 |
| TOSSPLEX DROP | Multivitamin + Multi minerals + Antioxidant drop |
| VOMIJOY | Ondansetron 2mg with mono carton |
| TOSSKUF-PD DROP | Ambroxol 3 mg + Terbutaline 0.25 mg + Guaiphenesin 10mg drop |
| TOSSZYME | Fungal Diastase and papain with b-Complex drop |
Superior Manufacturing Arrangements for Quality Pediatric Medicines
Novalab Healthcare is the Best Pediatric Drops Manufacturer and Supplier in India that owns one of the most modular and advanced infrastructural facilities. Through our arrangements, we have become proficient to meet the third party manufacturing necessities of private pharma companies, government bodies, and well-established pharma ventures.
Our facilities are instilled with state-of-the-art manufacturing arrangements located under excise-free zones. The company has all the resources and manpower that allow us to bring out products meeting international standards. We have segregated every activity into different departments to avoid confusion and to maximize efficiency. Have a look at the stand out points of the Infrastructural facilities of the Top Third Party Pediatric Drops Manufacturer and Supplier in India:
We have trained manpower placed at each department as per their skills and experience.
Hygienic and well-designed production houses with proper manufacturing arrangements.
We have an eco-friendly working environment for boosting the employee's moral and well-being.
In-house laboratories and quality testing centers for maintaining product quality.
A team of technicians for regular maintenance of equipment.
Different dehumidification units, Air Handling Units (AHU), and dust extraction systems.
Wide Array of Measurements Followed for Enhanced Quality Pediatric Products
As the Top Third Party Pediatric Drops Manufacturer and Supplier in India, Novalab Healthcare assures the delivery of efficient, secured, and quality-rich healthcare products. The company uses active pharmaceutical ingredients to formulate its products. We have a reliable R&D team that successfully creates a broad spectrum of products that are suitable for children of all age groups. We try out best to minimize wastage and bring our result-oriented products.
List of measurements followed at Novalab Healthcare:
We ensure proper adherence to IMA guidelines and International safety standards.
The company emphasizes the hygienic processing of products.
We acquire raw material from trusted sources.
To ensure the long-term safety and shelf-life of products we pack them under leakage and moisture-proof packaging.
The highest quality levels are achieved through innovation and R&D.
How Choosing Novalab Healthcare Will be Profitable for You
Novalab Healthcare is the Best Pediatric Drops Manufacturer and Supplier in India. The company undertakes customized production and distribution of a wide array of healthcare products using active ingredients. The company has been awarded as the fastest-growing pharma company by the respective authorities. By choosing Novalab Healthcare, you will be able to expand your product range or start your own business in a pocket-friendly manner. From us, you can expect complete support, timely delivery, quality-checked products, and proper labeling.
Reasons to choose Novalab Healthcare:
We ensure on-time delivery of products across all locations.
You will get the products with proper bringing and labeling.
You will get an immense range of pharma products from us.
Our team is available 24X7. 365 days for your assistance.
The company has spacious warehouses for the germ-free storage of products.
So, if you want to get your hands on the latest and best quality Pediatric drops range that is accepted across the country, then contact the Top Third Party Pediatric Drops Manufacturer and Supplier in India, Novalab Healthcare. With our quality-tested and medically advanced medicines, you will be able to satisfy all your requirements.
For More Details
Name: Novalab Healthcare
Address: Plot No-208, Industrial Area Phase 1, Panchkula, Punjab 134113.
Phone: 9371300000.
Email: novalab07777@gmail.com.