Top Pharma PCD Company in Indore – Planning to start a pharma franchise business in Indore? Want the best business proposals of quality pharma medicines? Then Novalab Healthcare welcomes you! We are a Chandigarh based pharmaceutical organization that is working to enhance human health by delivering top-quality pharma medicines. We are a researched based Best Pharma PCD Franchise Company in Indore that owns an extensive list of high-quality products consisting of Tablets, Sachets, Ointment, Syrups, Capsule, Injection, etc. The company is making enormous contributions towards humans by manufacturing, marketing, and delivering a superior range at genuine prices.
Novalab Healthcare believes in Tangible results, sustainability, and mutual growth & expansion. The company is ISO 9001:2015 certified and authorized by GMP-WHO as well. We are now here in Indore offering Monopoly Based Pharma Franchise business plans across all regions or districts of the city. You can contact the Top Pharma PCD Company in Indore and get ownership of a remarkable franchise business on mutually agreed terms & conditions. By doing business with us, you will get more profitable business opportunities, better growth scenarios,  fair margins, genuine rates, and much more.
If you are looking to start your business and wanted to earn better profits and reap out maximum benefits, then call Novalab Healthcare right now. Call us at 9371300000 or send us an email at novalab07777@gmail.com to get more details.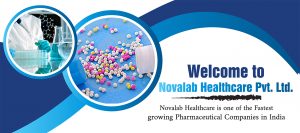 Indore's Top Pharma PCD Franchise Company – Novalab Healthcare
We are one of the prestigious pharma companies in India today. The company exclusively concentrates to provide delightful franchise business services and pharma products that provide a higher sense of satisfaction to both our clients & customers. Today, we have cemented our name as one of the Best Pharma PCD Franchise Company in Indore. The company is trusted for getting splendid quality products and profitable business deals.
We pride ourselves on achieving 100% client satisfaction through our premium services & support. Therefore, if you reside in any part of Indore and looking to start your business in the pharma industry, then Novalab Healthcare is an exotic place to end your search and get what you actually need. Below are the reasons why we are the Top Pharma PCD Company in Indore:
The company has a skilled committee that includes quality inspectors and R&D scientists for enhanced innovation.
Novalab Healthcare is consistently evolving and emerging as a powerful force.
We have state-of-the-art manufacturing units, infrastructural facilities, powerhouses, storage arrangements.
The company is fostered by a team of hard-working marketing specialists, pharma experts, researchers, and supervisors.
On-time delivery of medicines is guaranteed by the best PCD Pharma Franchise, Novalab Healthcare.
The company never sacrifices with quality, hence you will always get a genuine quality product.
Product Range Offered by the Best PCD Pharma Franchise
Our pharma range is designed by the country's best doctors and manufactured under approved manufacturing units using the highest-valued raw materials. We have more than 500+ high-quality pharma medicines that cater to different healthcare segments. As the Best Pharma PCD Franchise Company in Indore, we deliver products in different shapes, sizes, packaging, and dosages. At Novalab Healthcare, you will only get a superior quality pharma product. The company never compromises with the quality, instead, we adhere to all safety and quality standards provided by the regulatory authorities. Here are the products included in our product range:
| | |
| --- | --- |
| Brand Name | Composition |
| CONIGLIP-50/500 | Vidagliptin 50/500 mg |
| CONISTAT-10 | Rosuvastatin 10 mg tab |
| MOXIKAST | Moxifloxacin hcl ophthalmic 0.5 % eye drop |
| AMLOTREE -5 | Amlodepin 5mg tablets |
| DAZ-12 | Ivermectin 12 mg Tablet |
| DAZFORCE- SOAP | Fluconazole 1% w/w Soap |
| CONIMOM-F | Mometasone Furoate 0.1 % w/w & Fusidic Acid 2.0 % w/w cream |
| DAZFLO-F | Fluticasone Furoate Metered Spray |
| GATYKAST-DROP | Gatifloxacin 0.3% opthalmic solution |
| CONITORE-10 | Torsemide 10 mg |
Modernistic Manufacturing Approach Pursued for Quality Output
Novalab Healthcare is maintaining its image of being the Top Pharma PCD Franchise Company in Indore by consistently delivering a secured product range. For us, quality is the foremost priority. Our experts are working 24X7 to deliver quality medical therapies. Being a prominent member of the Indian healthcare fraternity, the company applies modernized techniques to formulate its products. To name a few, below are the steps taken by Novalab Healthcare to deliver superior quality outcomes:
Legally approved production houses.
World-class infrastructural arrangements.
Imported machinery and quality monitoring tools.
A team of reliable, experienced, skilled, and trained staff.
Key Benefits of Choosing Novalab Healthcare
As the Top Pharma PCD Company in Indore, Novalab Healthcare provides ample perks to its franchise holders. The company is client-oriented and moving ahead with the vision to provide complete support to its clients. Here in Indore, the company is offering fruitful and genuine business plans to all medical representatives, retailers, wholesalers, pharma aspirants, and interested business seekers. Here is the list of benefits that you will get by taking the PCD Pharma Franchise in Indore:
Complete set of promotional or marketing tools.
Timely delivery of products across all locations.
Unique monopoly rights for your region.
Genuine profit-earning opportunities.
Assured returns.
Year-round availability of stock.
With each passing day, Novalab Healthcare is setting higher standards in the Indian pharmaceutical industry. When it comes to quality products and reliable franchise business services, no one can beat us. So, if you are thinking to start your business in the Indore pharmaceutical sector and looking for a Reliable, Trustable, and Dependable Companion, then definitely choose the Top Pharma PCD Company in Indore, Novalab Healthcare.
Contact Details
Name: Novalab Healthcare
Address: Plot No-208, Industrial Area Phase 1, Panchkula, Punjab 134113.
Phone: 9371300000.
Email: novalab07777@gmail.com.