Pharma Products Exporter and Supplier in India – Novalab Healthcare is one of the trusted pharmaceutical companies located in Panchkula (Haryana). The company is working to manufacture and deliver highly innovative, latest, and quality medicines to clients in the domestic and international market. We are an ISO 9001:2015 Indian pharmaceutical company that holds GMP and WHO accreditations as well. Regarded as the best Pharma Products Exporter and Supplier in India, the company is successfully bringing non-stop pharmaceutical solutions. Our products are quality assured and available in the form of Tablets, Injections, Ointments, Sachets, Capsules, Syrups, and many more.
Established in the year 2014, Novalab Healthcare is bridging the gap between the necessities of clients and high-quality medical products by providing them with more than 600+ high-quality medicines. We never compromise with the quality and deliver healthcare solutions that are manufactured with state-of-the-art infrastructural facilities. We have reached among therapeutic segments like Pediatric, Dermatology, ENT, Ayurvedic, Infusion, Cardiac Diabetic, General, Dry Syrups, Protein Powders, and many more. The company ensures well-timed delivery of higher quality medicines at cost-effective rates. Our innovative storage warehouses hold the capability to store bulk products in a hygienic manner. By working with the Top Third Party Pharma Products Exporter and Supplier in India, you will get timely delivery of products, wide product range, affordable prices, and much more.
Novalab Healthcare is justified its name by its deeds. If you are thinking to outsource the manufacturing work, then contact us now. To know more about offers and best deals for you, dial 9371300000 or write us an email at novalab07777@gmail.com. Our team is available for your assistance.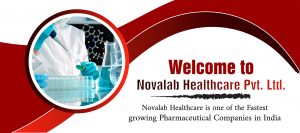 600+ Certified Pharma Products Available for Distribution
Novalab Healthcare is pleased to showcase its quality pharma products. As the Best Pharma Products Exporter and Supplier in India, we have embarked on the path of greatness through our robust product portfolio. Using biologically active raw material, tested ingredients, and utilizing the efforts of a talented team of doctors and scientists, Novalab Healthcare has come up with top-quality yet affordable healthcare solutions.
The company has shaped its products by using material that is obtained from the industry's most trusted sources. We export products in every rural and urban part of the county with all safety certifications. Right from discovery to formulation, the entire process is undertaken under excise-free zones using modular infrastructural arrangements. Below is the product range that is available at the Top Third Party Pharma Products Exporter and Supplier in India, Novalab Healthcare:
Cardiac/ Diabetic.
Derma Products.
General Products.
Eye, Ear & Nasal Drops.
Infusion.
Injections.
Pediatric.
Drops.
Dry Syrups.
Protein Powder.
Tablet.
Capsule.
Syrups
Suspensions.
Softgel,
Best Pharma Products Exporter and Supplier in India – Novalab Healthcare
Novalab Healthcare is one of the trusted and leading pharma companies that is manufacturing, delivering, and trading a wide variety of healthcare medicines. We aim to deliver high-quality products that are manufactured under state-of-the-art hygienic conditions. Our products exceed industry standards and provide value for money to the client. The company is bringing years of expertise and modular manufacturing methodologies with technology together to bring out quality, efficient, secured, and in-demand products at affordable prices.
We provide manufacturing services across every corner of the country. Our manufacturing model not only strives to earn profits rather, but we also strive to enhance the healthcare standards of people with our solutions. Today, we have more than 600+ high-quality products that are legally approved and come under multiple air-tight packing with proper labeling. Such traits are enough to make us the Top Third party Pharma Products Exporter and Supplier in India.
Features of Novalab Healthcare:
The company produces a wide range of healthcare products made with active pharmaceutical ingredients and the latest molecules.
Our products are 100% quality assured and duly inspected under the supervision of quality supervisors.
We have world-class infrastructural facilities that are furnished with advanced technology machinery & equipment.
The entire product range of Novalab Healthcare is delivered under secured packing with accurate labeling.
We provide third-party manufacturing services across PAN India.
The company is headed by a skilled, experienced, and dedicated team of pharma experts, manufacturing specialists, doctors, healthcare experts, analytical chemists, etc.
State of the Art Infrastructural Arrangements for Efficient & Effective Operations
Novalab Healthcare is the Top Pharma Products Exporter and Supplier in India that is also famous for its world-class infrastructural and manufacturing facilities. Our infrastructure is what makes us an ideal choice for third party manufacturing. The company is completely integrated with modernized resources that include state-of-the-art machinery, quality inspection devices, and many more. Our production units are spread over a wide area and under excise-free zones. These facilities are certified and licensed by the regulatory authorities as well.
Highlights of our infrastructural arrangements:
Separate quality checking and R&D labs for analyzing, testing, and bringing new formulations.
Spacious storage warehouses for the germ-free storage of final products.
Fully functional powerhouses and drainage systems along with proper CCTV surveillance.
All sanitation and sterilization arrangements to meet safety guidelines.
Advanced and imported equipment for manufacturing and packing medicines.
Qualities that Make Us the Top Pharma Products Exporter and Supplier in India
Novalab Healthcare is the fastest-growing producer and exporter of pharma products. The company tries to meet the client's necessities for quality products, confidentiality, flexibility, and dependability in a systematic manner. We manufacture a broad spectrum of solid and liquid medications with proper dosages, composition, and standards.
The company has tremendous experience and exposure in dealing in the Indian market. By working with us, you will easily get your hands on products that hold better shelf-life and that are best in terms of pricing and quality. The company pass the perks of bulk production, competitive rate and much more to its clients. Below are the qualities that make Novalab Healthcare, the Best Third Party Pharma Products Exporter and Supplier in India:
We provide the benefits of excise-free zone and tax rebates.
The complete range provided by us is manufactured under hygienic conditions.
We have a qualified and experienced team of experts handling activities in our premises.
Our products are well researched and manufactured after complete research & development.
Link with Novalab Healthcare and Earn Limitless Rewards
Working with Novalab Healthcare is the best decision that you can make. We are the leading Pharma Products Exporter and Supplier in India that offers higher quality products to the clients so that they can run their business. The company offers the most comprehensive supply chain formulations in the domestic and the international market place. We work to meet the necessities of the Indian market through our branded and generic medicines. With us, you will be able to get your hands on an amazing quality pharma range that is highly demanded across the nation.
Benefits of working with Novalab Healthcare:
We guarantee quick and assured delivery across all locations.
The complete product range will be packed under air-tight and moisture-free packaging.
Our team will be available 24X7 to assist you.
You will get a quality assured product range.
We will provide you with genuine investment plans.
You will get a wide range of pharma medicine at affordable prices.
So, if you plan to outsource pharma products and want to get the full worth of your investment with high-quality products, then choose the Top Third Party Pharma Products Exporter and Supplier in India, Novalab Healthcare.
For More Details
Name: Novalab Healthcare
Address: Plot No-208, Industrial Area Phase 1, Panchkula, Punjab 134113.
Phone: 9371300000.
Email: novalab07777@gmail.com.